The photographer Annet van der Voort was born in the Netherlands and has been living in Germany for many years. Her work is a showcase of her very personal view of people and things: tender and brutal, disturbing and enchanting.
The tranquil, precisely observed colour photographs repeatedly deal with Annet van der Voort's attempts to come to terms with haunting questions on passing time and the ephemeral nature of life. At the same time they paraphrase the conditions, potentials and boundaries of visual perception.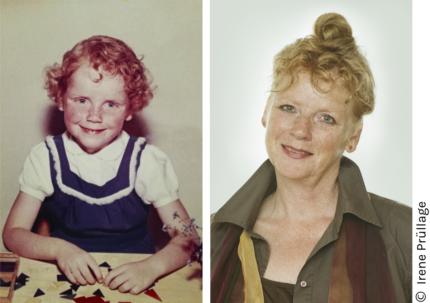 Vita
Born in Emmen, The Netherlands.
From 1987 to 1992 study of Visual Communications
at the University of Applied Sciences in Dortmund, Germany. Graduation 1993.
From 1990 on many solo and group exhibitions.
Various international publications.
Independent photo-designer, living and working in Drensteinfurt, Germany.
Teaching
1998/99 Higher Institute of Fine Arts, Antwerp/BE
2014/15/16 Anzenberger Masterclass, Wien/AT
Work in collections (selection)
La Collection des Rencontres, Arles/FR
Staatsgalerie, Stuttgart/DE
European Polaroid Collection, Prague/CZ
Industriemuseum, Dortmund/DE
National Museum of Photography, Bradford/GB
Museet for Fotokunst, Odense/DK
Deutsches Architektur Museum, Frankfurt/DE
Stadtmuseum, Münster/DE
Gasunie, Groningen/NL
La Filature, Mulhouse/FR
Various private collections
Solo Exhibitions (selection)
| | |
| --- | --- |
| 2023 | Museum RELiGIO, Telgte/DE |
| 2023 | LWL-Industriemuseum Henrichshütte, Hattingen/DE |
| 2022 | Waterliniemuseum Fort bij Vechten, Bunnik/NL |
| 2022 | Historisch-Technisches Museum Peenemünde/DE |
| 2021 | Tirpitz Museum, Blåvand/DK |
| 2021 | Gedenkstätte Wewelsburg, Büren/DE |
| 2021 | Städtische Galerie, Iserlohn/DE |
| 2020 | Deutsches Marinemuseum, Wilhelmshaven/DE |
| 2019 | Bezirksregierung Münster/DE |
| 2016 | AnzenbergerGallery (with Pawel Zak), Vienna/AT |
| 2014 | Galerie, Aelderhooghe/NL |
| 2013 | Arbeit & Leben, Düsseldorf/DE |
| 2012 | Städtische Galerie, Markdorf/DE |
| 2011 | Kunstmuseum, Ahlen/DE |
| 2011 | Städtische Galerie, Iserlohn/DE |
| 2010 | FotoFreo, Fremantle/AU |
| 2010 | Photaumnales, Beauvais/FR |
| 2009 | DGB, Berlin/DE |
| 2008 | Ballhaus, Berlin/DE |
| 2008 | Kreismuseum Wewelsburg, Büren/DE |
| 2008 | Ministerium für Familie, Düsseldorf/DE |
| 2007 | Schloss Borbeck (with I. Pruellage), Essen/DE |
| 2006 | Stadtmuseum, Münster/DE |
| 2005 | Rencontres de la Photographie, Arles/FR |
| 2005 | Landtag Sachsen-Anhalt, Magdeburg/DE |
| 2004 | Embassy of the Netherlands, Copenhagen/DK |
| 2003 | Stadtmuseum, Münster/DE |
| 2003 | Fotofestival Odense/DK |
| 2000 | Kunstverein, Lingen/DE |
| 1999 | Kulturzentrum Feuerwache, Mannheim/DE |
| 1998 | Museet f. Fotokunst (with J. Jensen), Odense/DK |
| 1998 | Deutsches Architektur Museum, Frankfurt/DE |
| 1997 | Kunsthal, Rotterdam/NL |
| 1996 | Kreismuseum, Wewelsburg/DE |
| 1995 | Industriemuseum, Dortmund/DE |
| 1995 | Galerie ImKabinett, (with E. Vargas), Berlin/DE |
| 1993 | Galerie Im Depot, Dortmund/DE |
| 1992 | Alte Synagoge, Essen/DE |
| 1991 | Bundesgartenschau, Dortmund/DE |
Exhibition Participations (selection)
| | |
| --- | --- |
| 2023 | Townhall Gallery, Ingré/FR |
| 2021 | Galerie Lichtblick, Köln/DE |
| 2018 | Kunstverein, Sundern/DE |
| 2017 | Museum of Modern Art, Tbilisi/GE |
| 2016 | Stadtmuseum Münster/DE |
| 2015 | Landesmuseum Hannover/DE |
| 2014 | Stadtmuseum Ratingen/DE |
| 2014 | Deutsches Schiffahrtsmuseum, Bremerhaven/DE |
| 2014 | Deutsches Museum, München/DE |
| 2013 | Deutsches Bergbau-Museum, Bochum/DE |
| 2013 | Römisch-Germanisches Zentralmuseum, Mainz/DE |
| 2013 | Centro Cultural, University Lima/PE |
| 2013 | Deutsches Hygienemuseum, Dresden/DE |
| 2013 | Deutsches Naturkundemuseum, Berlin/DE |
| 2013 | Courthouse Gallery, Port Hedland/AU |
| 2013 | FORM Gallery, Perth/AU |
| 2012 | Städtische Galerie, Lüdenscheid/DE |
| 2011 | Getxophoto, Bilbao/ES |
| 2010 | Beter dan God, Enschede/NL |
| 2008 | Septembre de la Photographie, Lyon/FR |
| 2007 | Rencontres de la Photographie, Arles/FR |
| 2007 | La Filature, Mulhouse/FR |
| 2007 | Kunstspeicher Würzburg/DE |
| 2006 | Langhals galleri, Prague/CZ |
| 2006 | Kunstmuseum, Ahlen/DE |
| 2006 | Gasunie, Groningen/NL |
| 2006 | Festival of photography, Kaunas/LT |
| 2005 | Noorderlicht Photofestival, Groningen/NL |
| 2005 | Imagine China Gallery, Shanghai/CN |
| 2004 | Photofestival Exposure, Hereford/GB |
| 2002 | Ruhrlandmuseum, Essen/DE |
| 2001 | Nikolaj Art Center, Copenhagen/DK |
| 2001 | Museet for Fotokunst, Odense/DK |
| 2001 | Industriemuseum Henrichshütte, Hattingen/DE |
| 2000 | Kreismuseum, Wewelsburg/DE |
| 2000 | Deutsches Architektur Museum, Frankfurt/DE |
| 1999 | Monat Fotografie im Ruhrgebiet, Dortmund/DE |
| 1999 | Johannes A. Lasco Bibliothek, Emden/DE |
| 1998 | Zomer van de Fotografie, Antwerp/BE |
| 1998 | Neue Gesellschaft für Bildende Kunst, Berlin/DE |
| 1997 | Mois de la Photo, Montreal/CA |
| 1997 | Kunstmuseum, Horsens/DK |
| 1997 | Horsens Museum, Horsens/DK |
| 1996 | Diözesanmuseum, Paderborn/DE |
| 1995 | National Museum of Photography, Bradford/GB |
| 1995 | Kunstmuseum Ahlen, Ahlen/DE |
| 1994 | Rencontres de la Photographie '94, Arles/FR |
| 1994 | Photokina, Cologne/DE |
| 1994 | Fotoforum Frankfurt, Frankfurt/DE |
| 1993 | Heinrich-Heine-Universität, Düsseldorf/DE |
| 1990 | Salon des Refusés, Dortmund/DE |
Publications, Books and Catalogues (selection)
| | |
| --- | --- |
| 2019 | The Wall, Berlin/DE |
| 2017 | Im Hospiz, Münster/DE |
| 2013 | Zukunft Leben, Berlin/DE |
| 2013 | Pilbara Stories, Perth/AU |
| 2012 | Vanitas, München/DE |
| 2012 | Ganz privat – Familie, Lüdenscheid/DE |
| 2011 | Geo International |
| 2011 | Window of my Eye, Bönen/DE |
| 2011 | Vanitas, München/DE |
| 2009 | West, Heidelberg/DE |
| 2009 | Flow, NL |
| 2008 | Le Monde2, FR |
| 2008 | Flow, NL |
| 2008 | Identité(s) 08, Lyon/FR |
| 2008 | Zwei Welten, Heidelberg/DE |
| 2007 | Rencontres de la Photographie Arles, Kat., Arles/FR |
| 2007 | du, nr. 776, 05/2007, Zürich/CH |
| 2006 | Vanity fair |
| 2006 | The Guardian Weekend |
| 2006 | le Monde2 |
| 2006 | El Mundo |
| 2005 | Traces & Omens, Kat., Groningen/NL |
| 2005 | Rencontres 2005 Photographie Arles, Kat., Arles/FR |
| 2005 | Das Leben und die letzten Dinge, Freiburg/DE |
| 2004 | EI8HT, Volume 3/3, London/GB |
| 2003 | Odense Foto Triennale 2003, Kat., Odense/DK |
| 2003 | Katalog, Vol. 15/3, Museet for Fotokunst, Odense/DK |
| 2002 | Leben im Hospiz, Münster/DE |
| 2000 | Mythos Zeitenwende, Hg. Herbert Knorr, Unna/DE |
| 2000 | Architektur im 20. Jahrhundert, Deutschland, München/D, London/GB, New York/US |
| 1999 | Winterpoesie, Hg. Herbert Knorr, Arnsberg/DE |
| 1998 | Prag, Köln/DE |
| 1998 | Katalog, Vol. 10/1, Museet for fotokunst, Odense/DK |
| 1998 | IDentiteit, Kat., Antwerpen/BE |
| 1998 | Gesicher und Dinge, Kat., NGBK, Berlin/DE |
| 1997 | The Dead, Kat., National Museum of Photography, Bradford/GB |
| 1996 | Von Angesicht zu Angesicht, Kat., Hg. Christoph Stiegemann, Paderborn/DE |
| 1996 | Venedig, Köln/DE |
| 1995 | Camera Austria International, 51/52 1995, Graz/AT |
| 1993 | Deutscher Photopreis 1993, Hg. Landesgirokasse Stuttgart/DE |
| 1988 | Anne Frank war nicht allein, Berlin, Bonn/DE (with Volker Jakob) |